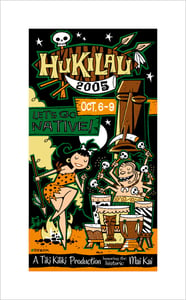 $

65.00
"HUKILAU 2005"
This is a 6 color hand printed serigraph designed by Derek Yaniger. It is printed on heavy archival fine art paper. It served as the official event serigraph for The Hukilau in Fort Lauderdale, FL in 2005. The image includes a tribal dancer and drummer.
The paper measures 13 by 21 inches. The actual image measures 9 by 17 inches, leaving a 2 inch wide white border on each side.
This particular piece is one of only 65 hand signed and numbered limited edition serigraph.