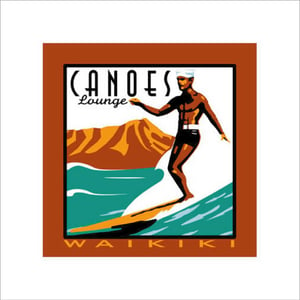 $

45.00
"CANOES LOUNGE"
4 color hand printed serigraph designed by Wade Koniakowsky printed on heavy archival fine art paper. This print features a classic image of a surfer riding a wave at Waikiki with Diamond Head in the background.
The paper measures 14 by 14 inches. The actual image measures 10 by 10 inches, leaving a 2 inch wide white border on each side.
This particular piece is one of only 150 hand signed and numbered limited edition serigraphs.